Print this page
---
Guest Blogger


08/30/2011
An Interview with the Mada Centre for Assistive Technology, Qatar
About the Mada Centre
Mada (Qatar Assistive Technology Centre) is committed to using assistive technologies (AT) as a means of creating more accessible workplaces. As part of connecting people with disabilities to the world of information and communication technology, Mada launched a nationwide accessibility initiative with its partners, Qatar Telecom (Qtel) and Vodafone Qatar on 7 December 2010. The purpose of the initiative named "Connected" will ensure that persons with disabilities do not have to pay more than others to use mobile telecommunications technology.
The centre enables adults and children with disabilities to use computers, mobile devices and the Internet at home by offering a full range of services and resources related to assistive technologies. At Mada, people of all ages, with any type of disability are able to visit the interactive resources centre to try out the latest assistive technology and access assessment and training services. The Mada team is able to assist in choosing a suitable solution through impartial and expert advice.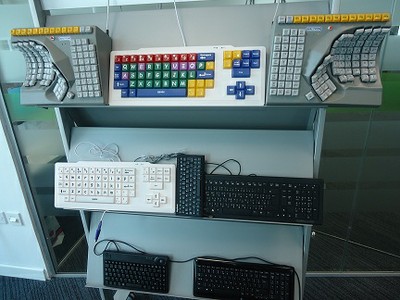 Following is the transcript of the interview by Maureen Agena, CIS, India with David Banes, Deputy Director, Mada Assistive Technology Centre, Qatar.
Maureen Agena (M.A.): What is the status of disabled persons in Qatar or Mada in terms of number, age and gender and the kind of the work Mada is engaged in?
David Banes (D.B.): There are officially some 10,000 disabled people in Qatar across a wide range of needs. This doesn't include people who are ageing and acquiring moderate disabilities as a result of their age. Mada works with any disability, any age for any purpose, supporting both Qatari citizens and residents. We work with both men and women including the Arabic and non-Arabic speaking visitors.

M.A.: What is the level of ICT accessibility awareness for PWDs in Qatar?

D.B.: As more and more people in Qatar use ICT every day so the awareness of barriers is increasing. Mada has been working hard to raise public awareness through cinema, television and radio ads and even video ads in the local shopping Malls! More importantly we are working hard to make sure that disabled people are aware of the potential of technology to change their lives, and so we work closely in partnership with other services for people with a disability to integrate accessibility activity.

M.A.: Are there any efforts of the Qatar Government towards Mada in terms of policy measures, programmes, schemes for PWDs? How about efforts by companies or universities?
D.B.: IctQatar currently has an e-accessibility policy out for consultation. The policy is wide ranging and offers detailed expectations across the public sector for websites, but also requires accessible ATM's, telephone and emergency services to be introduced.

M.A.: What is the situation of copyright law in Qatar?
D.B.: Copyright and IPR are both respected in Qatar. We are delighted that creative commons is being introduced to the country allowing for alternative formats of documents to be more readily produced.

M.A.: What is the level of development at Mada in terms of assistive technologies? Specifically screen readers in Arabic.
D.B.: Mada is extremely busy in supporting both commercial and open source development of AT in Arabic. We have eight projects due to announce in the very near future. Screen readers are well developed in Arabic, but we are looking forward to seeing a more basic text to speech tool created to lower the cost of entry point for blind users on a limited budget.

M.A.: Does Mada have any collaborative development with surrounding Arabic nations?
D.B.: We welcome collaborations across the region and internationally. We speak regularly to organisations in Dubai, Abu Dhabi and then more widely to Egypt and Tunisia. Collaboration is very much central to our approach.
To read the full transcript of this interview, please visit: http://cis-india.org/accessibility/interview-mada
----------------------------------------------------------------------------------------------------------------------------------------
Related Event: Inaugural meeting "G3ict Assistive Technologies Leadership Initiative", Doha, Qatar on September 18-19, 2011.

---