Victor Santiago Pineda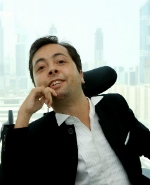 President, World Enabled and President, Global Alliance on Accessible Technologies and Environments (GAATES).
Dr. Victor Santiago Pineda is a recognized leader in international disability rights and was appointed by U.S. President Barak Obama to the Architectural and Transportation Barriers Compliance Board. He is the Senior Research Fellow at the Haas Institute for a Fair and Inclusive Society at the University of California Berkeley.
Related blogs of Victor Santiago Pineda
---
Victor Santiago Pineda is a global expert on disability policy and the Senior Research Fellow at the Haas Institute for a Fair and Inclusive Society at the University of California Berkeley. Upon completing the intensive negotiations that shaped the New Urban Agenda, I realized that we, persons with... Read More
---