Karen Tamley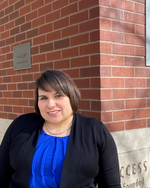 President and CEO, Access Living
Before January 2020, Karen served as Commissioner of the Mayor's Office for People with Disabilities in Chicago for 14 years, where she tackled disability policy and accessibility initiatives under three Chicago mayors. Karen led disability-related work in the areas of transportation, city infrastructure, technology, emergency planning, education, and employment. She also oversaw the delivery of direct services including in-home supports, home accessibility modifications, and employment services to thousands of youth and adults with disabilities.
Karen was appointed by President Obama in 2016 to serve on the United States Access Board, which develops national accessibility guidelines and standards. In March of 2019, she was elected Chair of the Access Board.
In becoming CEO of Access Living, Karen is returning to her roots. She worked at Access Living from 1996 to 2005, under founding CEO Marca Bristo, first for three years as the Housing Policy Coordinator and then for six years as the Director of Programs.
Prior to that, she was the Housing Director at Atlantis Community, Inc. a Center for service and advocacy for people with disabilities in Denver, Colorado.
Tamley has a depth of experience serving on a wide variety of community and nonprofit boards that focus on cultural experiences and diversity and inclusion.
In 2015, Karen received the Motorola Solutions Excellence in Public Service Award from the Civic Federation, which recognizes a non-elected government official for having an extraordinary impact on the quality of state and local government services in Illinois, and she received the Distinguished Fellow award from Leadership Greater Chicago.
Karen is a graduate of the University of California, Berkeley. She lives in Chicago with her husband, Kevin Irvine, and their adopted teenage daughter, Dominika. All three have disabilities themselves and are actively involved in grassroots disability advocacy locally and nationally.
Related blogs of Karen Tamley
---
The Covid-19 pandemic has amplified long-standing disparities faced by disabled people including poverty, a fragile social safety net, inequitable healthcare and a digital divide. This impact has allowed me as a new CEO to bring our mission into sharper focus but also hit a reset button to re-imagin... Read More
---