Ambassador Luis Gallegos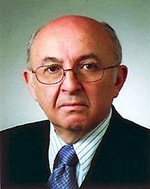 Chair of the Board of Trustees, G3ict
Ambassador Luis Gallegos is the Permanent Representative to the Mission of Ecuador to the United Nations in New York. He also serves as a Senior Fellow at the United Nations Institute for Training and Research (UNITAR) as well as Chair of the Board of Trustees of the Global Initiative for Inclusive ICTs (G3ict). He has also been serving on the Special Olympics' International Board of Directors since April 2012.
Ambassador Gallegos was unanimously elected by his peers to serve as Vice President and Rapporteur of the United Nations Human Rights Council for 2013. The Congress of Ecuador has honored him twice for his work in human rights and for his leadership in the promotion and protection of human rights of persons with disabilities. Ambassador Gallegos is also a recipient of the Justice for All Disabilities Rights Award. He served as Ambassador of Ecuador to the United States from 2005 until 2011.
He has been Vice-President of the Commission of Human Rights, Geneva, 1998; Vice-President of the Assembly of the Member States of WIPO, Geneva, 1997-99; Representative of GRULAC to the Diplomatic Committee; President of the II Main Commission of the Diplomatic Conference for the Adoption of a New Act of Adjustment of Netherlands, WIPO, Geneva, 1999; Vice-President of the Programmatic Forum of the IDNDR, Geneva, 1999; and Vice-President of the Meeting of G-77, Morocco, 1999. He has also been Vice-President of the 57th Session of the UN General Assembly; Facilitator for the "Revitalization of the Work of the General Assembly", 2002; Facilitator for the "Strengthening of the United Nations", 2002; Vice-President of the Executive Board of UNICEF, 2003; and Vice-President of the Open-Ended Working Group on Security Council Reform, 2004.
He has been President of the Political Committee of the Non Aligned Movement twice. He was the Chairman of the Ad-Hoc Committee on a Comprehensive and Integral International Convention to Promote and Protect the Rights and Dignity of Persons with Disabilities from 2002-2005. He is an expert member of the UN Committee against Torture and Other Cruel, Inhuman or Degrading Treatment or Punishment.
Among his honorary decorations are Bulgaria, 1989; France, 1990; Brazil, 1991; El Salvador, 1997; Guatemala, 1999; Spain, 2001; Guatemala, 2002; Brazil, 2002; and Peru, 2002. He received the National Order of Merit of Ecuador in 2002, and the Honorato Vasquez Order in 2007. He has also received proclamations from the City Council of New York, the State Senate of New York, and the House of Representatives of New York.

Related blogs of Ambassador Luis Gallegos
---
In his role as Chairperson of the Global Initiative for Inclusive ICTs (G3ict), Ambassador Luis Gallegos announces the launch of a global consultation to capture the best practices, experiences and recommendations on how the use of information and communication technologies can support the inclusion... Read More
---