Shane Kanady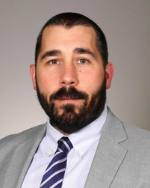 Senior Fellow, G3ict
Shane Kanady is an experienced nonprofit executive, researcher, author, and policy advisor. He has published multiple reports and articles on the future of work through nonprofit organizations and outlets such as the Journal of Inclusive Postsecondary Education. Kanady has appeared on podcasts and webcasts such as On the Evidence by Mathematica Policy Research, AXS Chat, The Business of Learning by Training Industry, Inc., and Workology. A frequent public speaker, Kanady has presented at the United Nations Conference of States Parties to the Convention on the Rights of Persons with Disabilities and the International Labour Organization's Global Business and Disability Network. As a policy advisor to House and Senate offices, he has provided input on multiple pieces of legislation including a role in the development and introduction of the CAPABILITY Act.
Kanady holds a Master of Arts with a concentration in Social Entrepreneurship from George Mason University where he was a 2019 College of Human and Social Sciences Distinguished Alumnus. He also holds a Nonprofit Executive Management certificate from Georgetown University and a Graduate Certificate in Human Rights Practice from the University of Arizona.
Along with serving as a Senior Fellow for G3ict, Kanady is also a Senior Fellow for the Portulans Institute, a Fellow with the Royal Society for the Encouragement of Arts, Manufactures and Commerce and he previously held fellowships with George Mason University and the Aspen Institute Future of Work Initiative.
Related blogs of Shane Kanady
---
G3ict's Global Policy Center is exploring a new global effort on the use of data and technology to anticipate and respond to disabilities acquired through man-made and natural disasters. This series of blog posts provides context for the scale of this problem and outlines a possible four-part respon... Read More
---
G3ict's Global Policy Center is exploring a new global effort on the use of data and technology to anticipate and respond to disabilities acquired through man-made and natural disasters. This series of blog posts provides context for the scale of this problem and outlines a possible four-part respon... Read More
---
G3ict's Global Policy Center is exploring a new global effort on the use of data and technology to anticipate and respond to disabilities acquired through natural and man-made disasters. This series of blog posts provides context for the scale of this problem and outlines a possible four-part respon... Read More
---