Portugal's +Accesso App Allows Persons with Disabilities to File Complaints Against Businesses that Do Not Meet Accessibility Laws
June 17, 2018
Fed up with the obstacle course of Lisbon's narrow footways and stairs in doorways, wheelchair user Ricardo Teixeira has taken matters into his own hands, giving disabled people the chance to fight back and instantly report violations via a phone app.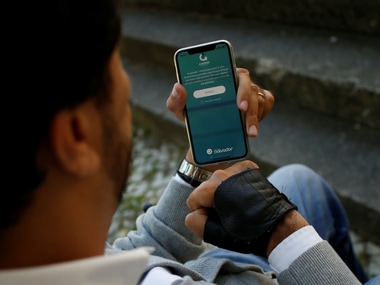 Image: Ricardo Teixeira is demonstrates the phone app he developed to report accessibility infringements to authorities. (Credit: Reuters)


Developed together with Portugal's disability charity Salvador Association, +Acesso is believed to be the world's first application allowing users to file official complaints against public buildings and businesses that do not meet accessibility laws.
The digital entrepreneur, a tetraplegic since the age of 18, came up with the idea a year ago after a disappointing experience during his wedding anniversary party at a restaurant, which advertised itself as being accessible.
"But we were surprised to find a big step at the entrance," the 41-year-old told Reuters. "I didn't want to ruin the evening but it made me think about how great it would be to have something in my pocket to make a complaint with."
Launched in May, the free app, which covers all Portugal, identifies the user's location on an interactive map that shows all nearby buildings. In a single click, the user can select a shop or restaurant and rate it based on its accessibility, including if it has an adapted toilet, parking or a ramp, and fill in a complaint form.
"There are apps out there people can use to rate buildings based on accessibility but there is nothing like this," said Vera Bonvalot, board member of the Brussels-based European Disability Forum.
Complaints sent through the app instantly reach the respective city councils and the National Institute for Rehabilitation, responsible for upholding accessibility laws. The process takes less than five minutes.
Since the app was introduced 95 complaints have landed in authorities' mailboxes, compared with 70 filed in Portugal in all of 2016, a report by the Disability and Human Rights Observatory revealed.
Around 18 percent of Portuguese live with a disability.
"By using this app we can all work towards a more accessible Portugal," Teixeira said.
A government decree in force since 2007 gave all public and private entities until February 2017 to "ensure accessibility in public spaces." However, the legislation is yet to be fully implemented, said Ana Antunes, secretary of state for inclusion.
"In this area [accessibility] Portugal has a long way to go and many things to improve," Antunes added.
Joana Bernardo, a 28-year-old with cerebral palsy who uses a walking aid to get around, said there was a time when lack of accessibility affected her motivation to go out but she hopes the app will help.
"Some people get discouraged from complaining because they think nothing will ever change," she said. "The app is a very smart way of making us exercise our rights."
Source: Firstpost