'Where We've Failed to Live Up to the Promise of the Americans with Disabilities Act', Writes Connecticut Sen. Ted Kennedy Jr.
December 26, 2017
Twenty-seven years ago, the Americans with Disabilities Act (ADA) was passed, prohibiting discrimination against individuals with disabilities. I still remember standing in the Rose Garden watching President George H.W. Bush sign the bill into law.
Today, as a result, people with disabilities face far fewer barriers to mobility and communication. Thanks to innovations ranging from curb cuts and Braille on ATMs to improved access to education and healthcare, people with disabilities lead more productive lives and can contribute more to our nation's economy.
This momentous progress deserves to be celebrated. But that progress should never be taken for granted, especially since people with disabilities -- a population numbering more than one in every five people in the US -- still face numerous challenges in entering and participating in the workforce.
The rate of unemployment among people with disabilities remains twice that of the overall population. The labor participation rate, 65.3% for the general population, is only 17.9 % for people with disabilities.
When it comes to employment, then -- even with the overall US unemployment rate now 4.1% , the lowest in 17 years -- we have failed to live up to the promise of the ADA. It seems many employers have yet to recognize that people with disabilities can contribute economically and societally if sought out and accommodated.
I lost my leg to bone cancer at age 12. I learned firsthand what it meant to struggle with both assumptions and accessibility. Since then I have fought, as a citizen, attorney and legislator, for the civil rights of people with disabilities. I have worked to ensure that people with disabilities are valued equally and are able to participate fully in our society.

In 2013, the American Association of People with Disabilities (AAPD), in partnership with the US Business Leadership Network (USBLN), established the Disability Equality Index (DEI), a unique snapshot of the progress companies are making to achieve equality for workers with disabilities. Across nine indexes, the DEI recognizes exemplary internal and external facing policies, strategies and initiatives that have produced measurable results in the areas of disability inclusiveness in the workplace, marketplace and supply chain. Now consumers can see the grades that businesses earn for their efforts toward inclusion and accessibility.
This year, the results of the third annual DEI appear promising. Of the 110 businesses participating -- 69 of which are ranked among the 2017 Fortune 500 -- 68 achieved a top rating of 100, a 62% jump over 2016. In addition, the average rating for participating companies reached 90 out of 100, an increase of 10 points from 2015.
And more than 95% of the companies in the DEI now have recruitment efforts geared toward hiring individuals with disabilities. Among the companies with perfect scores were Microsoft, Comcast NBCUniversal, Aetna, Bank of America and Walgreens. More and more, leaders at such organizations are championing initiatives for disabled employees.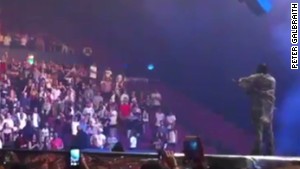 Kanye West and proving your disabilities
The examples of success I've seen on this front are inspiring. For example, at Microsoft, Jenny Lay-Flurrie, a deaf woman, functions as Chief Accessibility Officer, spearheading programs for accessibility, privacy and online safety. TD Bank has increased its efforts to hire people with disabilities, bringing aboard 190 people within the last three years alone.
Northrop Grumman made two job offers on the spot at a recent conference to students and recent college graduates with disabilities. Proctor & Gamble has undertaken a program whereby employees with disabilities mentor executives to share their perspectives both as employees and as consumers.
Even so, corporate America is hardly doing a perfect job in this respect as we enter a new year. How do we know?
The DEI also revealed some issues of concern. For example, only 29% of companies currently have retention and advancement policies that specifically mention disability inclusion, and only 39% inform job applicants that they're able to request one or more accommodations to facilitate an interview. Indeed, according to a recent survey by the Department of Labor's Office of Disability Employment Policy, most employers report no costs or low costs associated with accommodating the needs of employees with disabilities in the office.
Employment is a cornerstone of the American dream, and no less so for people with disabilities. Employers have a unique obligation to establish new precedents along these lines.

As it happens, hiring people with disabilities is good business, too. In fact, studies show that corporations with more inclusive disability policies produce greater-than-average returns to their shareholders. Hiring people with disabilities gives companies fresh insight into developing and marketing products and services that meet the needs and preferences of consumers with disabilities.
I urge the business community to keep up the good work and to make a New Year's resolution to do better. The Disability Equality Index is an opportunity to do so, and the 2018 deadline to participate is January 12. People with disabilities have the right to equal opportunity and to be economically self-sufficient.
I hope that all year round, more employers will recognize the value of people with disabilities in the workplace. Only when employers extend the opportunity to contribute fully can we truly achieve what the ADA intended.
Source: CNN