Slideshow –

Featured Publications
By: G3ict and Steelcase

October 2021 | English | Pages: 49

G3ict partnered with Steelcase to conduct quantitative and qualitative research to release a blueprint for Inclusive Workplaces of the Future.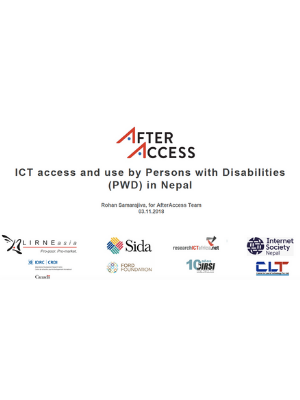 By: AfterAccess, LIRNEasia
Format: PDF
Size: 3 MB
Download
November 2018 | English | Pages: 65
The Presentation by After Access looks at the results of the survey to understand access and use of ICTs in Nepal among age 15-65 population and age 15-65 PWD population.

By: ITU, G3ict
Format: PDF
Size: 2.18 MB
Download
August 2012 | English, French, Spanish, Arabic, Chinese, Russian | Pages: 82
Making Mobile Phones and Services Accessible for Persons with Disabilities is a joint report of the International Telecommunication Union (ITU) and G3ict.

By: The University of Tokyo
Format: PDF
Size: 1001.96 KB
Download
January 2009 | English | Pages: 19
The 99 tools from the magical pocket of Aki-chan: this research project provides tips on how mobile phones can offer strategies to engage students in learning in ways that best suit their needs.