Slideshow –

Featured Publications
By: G3ict

January 2019 | English | Pages:12

This Discussion Guide aims to help government and public sector agencies at all levels integrate accessible information and communication technologies (ICT) into their policies and practices.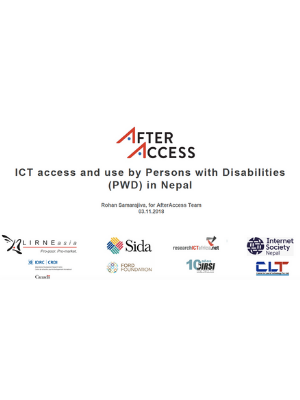 By: AfterAccess, LIRNEasia
Format: PDF
Size:3 MB
Download
November 2018 | English | Pages:65
The Presentation by After Access looks at the results of the survey to understand access and use of ICTs in Nepal among age 15-65 population and age 15-65 PWD population.

By: ITU, G3ict
Format: PDF
Size:2.18 MB
Download
August 2012 | English, French, Spanish, Arabic, Chinese, Russian | Pages:82
Making Mobile Phones and Services Accessible for Persons with Disabilities is a joint report of the International Telecommunication Union (ITU) and G3ict.

By: The University of Tokyo
Format: PDF
Size:1001.96 KB
Download
January 2009 | English | Pages:19
The 99 tools from the magical pocket of Aki-chan: this research project provides tips on how mobile phones can offer strategies to engage students in learning in ways that best suit their needs.
Enter your email to receive the publication download link.
We are committed to protect your data. G3ict Privacy Policy.