Slideshow –

Featured Publications
By: G3ict

April 2021 | English | Pages: 15

The Digital Inclusion and ICT Accessibility in Museums Survey Report details key findings from the online survey conducted among 161 representatives of 125 Russian museums.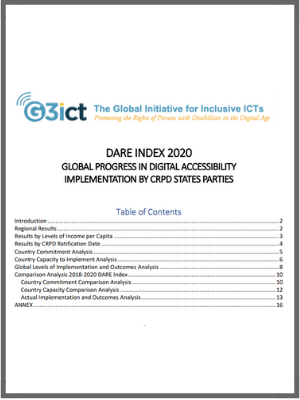 By: G3ict
Format: PDF
Size: 471 KB
Download
October 2020 | English | Pages: 17
This report is based on the second edition of the DARE Index data and seeks to consistently track progress made by States Parties to the Convention on the Rights of Persons with Disabilities (CRPD).

By: HelpAge International, London
Format: PDF
Size: 1.55 MB
Download
October 2013 | English | Pages: 52
The Global AgeWatch Index is the first-ever overview of the wellbeing of older people around the world.