Slideshow –

Featured Publications
By: G3ict

June 2020 | English | Pages:6

The Inclusive Courts Checklist includes 10 core capabilities that courts and justice systems should develop to support a digital transformation that is accessible and inclusive.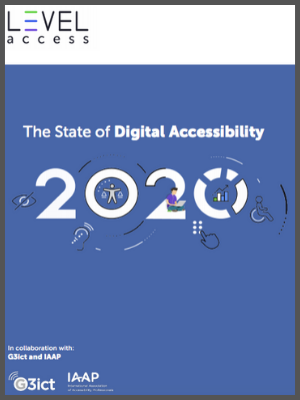 By: Level Access
Format: PDF
Size:3.74 MB
Download
May 2020 | English | Pages:40
The State of Digital Accessibility Report 2020 by Level Access, G3ict, & IAAP, draws on the data gathered in the State of Digital Accessibility Survey to provide insights into overall industry trends.

By: G3ict
Format: PDF
Size:5.2 MB
Download
December 2017 | English | Pages:32
The report examines the current state of technologies for indoor navigation and the importance of a technology neutral standardized approach to providing audio guidance to blind end- users.

By: G3ict
Format: PDF
Size:715 KB
Download
March 2012 | English | Pages:32
This G3ict White Paper seeks to document the discussions that took place at the 5th European e-Accessibility Forum (March 2011) organized by BrailleNet in Paris.