DATEurope: A New Voice for Digital Assistive Technologies Across Europe
Posted on March 01, 2021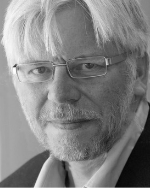 ​Director, David Banes Access and Inclusion Services ​and Board Member, DATEurope
The recently formed association for Digital Assistive Technology across Europe (DATEurope) recognizes the need for a coherent voice for European stakeholders. In many countries, there has been no mechanism by which the industry collectively is represented. While there are effective and valued organizations for other forms of assistive technology (AT) and provision, they do not always find it easy to encompass digital solutions' needs and outlooks. Furthermore, Europe presents specific challenges with diverse languages and cultures, countries within the EU and outside, demonstrating different funding approaches and provision of the technologies upon which many persons with disabilities depend.
As a result, the new association seeks to represent the broadest European geography, as both the technologies and the needs of persons with disabilities do not readily recognize some of the borders. Together, the members seek to push forward a shared goal to ensure the availability of the best technologies and services to increase and enhance the quality of life of all persons with disabilities.
For over two years, following discussions at events and conferences worldwide, the concept of such an association has been defined. It is based on the following core set of principles that the association seeks to:
Unite the industry to share information and best practice.
Deliver activities to raise awareness of the benefits of digital assistive technology (DAT).
Lobby Governments to legislate for DAT.
Enable Industry networking opportunities.
Foster emerging technologies and stimulate innovation and,
Create and promote a Code of Conduct to ensure ethical growth of the sector.
The new organization launched during an online gathering of companies and stakeholders in February 2021. At the meeting, the organization's vision and mission, and commitment to work with diverse partners were expressed. DATEurope seeks to enable access to digital assistive technology for all by uniting the industry across Europe to influence legislation, awareness, sustainability, growth, and commerce. At the same meeting, the board of directors was formally appointed, and initial work packages were outlined to address some of the challenges ahead.
The Assistive Technology industry in Europe – Size, shape, and dynamics
One of the workstreams seeks to fully understand the shape and size of the AT industry in Europe and its changing nature, by undertaking a survey and review. This need is dynamic and reflects the following influences and challenges faced:
Digital AT is a rapidly growing area of assistive technologies.
Disruptive innovation in AT builds upon digital technologies.
Traditional Assistive Technology companies have responded to these trends but face an uncertain future.
The growth of new AT companies should be welcomed. They address local, national and international markets. This growth impacts the market's size and shape from a supply perspective that is felt across the full implementation ecosystem. The workstream seeks to respond to vital questions, such as, how the industry addresses future needs in a changing environment, and what does the industry need to thrive?
The AT industry in Europe – Funding the demand
Understanding the AT market in Europe means understanding the purchasers. The diversity of funding reflects the broader diversity across the continent. As a result, the second workstream begins to explore the potential market, understanding that the technologies may be funded by public bodies, including health, social development, social care, and education at federal, national, or local levels. It is also characterized by many private funding sources, including persons with disabilities, their families, and various social organizations, charities, foundations and disabled persons' organizations (DPOs).
With this diversity of sources, the bureaucracy around provision can be labyrinthine, with unexpected obstacles to be avoided and hurdles to overcome. Clear evidence that well-implemented DAT reduces long-term care and hospitalization costs would encourage streamlined processes to increase impact - a benefit not only for AT users but also to the public purse.
The AT Industry in Europe – Networks
Different areas of AT provision face particular challenges and have specific needs. DATEurope is establishing focused member networks to explore and address these issues on a short-term or ongoing basis. These groups allow members with similar interests to come together for varied purposes, including sharing sector issues, forming task groups, problem solve and create teams. These networks will be driven by the members and by the difficulties faced at any time. They allow members to support each other to find partners, investigate opportunities, localize products and reach new markets. In this way, whilst our focus is within Europe, our reach is global.
The AT industry in Europe – A choir, not a single voice
Looking ahead, DATEurope offers an opportunity to reflect the rich diversity of innovation, thought, and experience held in Europe by members and partners. By blending and harnessing such diversity, we increase the impact of assistive technologies on the lives of people with a disability. Ultimately it is by that impact that the organization and its members should be judged.
If you are interested, you can find out more at the DATEurope website. You might even then join us in the beautiful city of Bologna, where you can discover the oldest university in the western world for our next assembly on September 10, 2021.