EFHOH and ITU Joint Effort in Improving Hard of Hearing People Accessibility at Meetings
Posted on November 05, 2018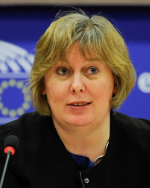 President at European Federation of Hard of Hearing People and Vice Chairman of ITU JCA-AHF
The European Federation of Hard of Hearing People (EFHOH) started to participate in standardisation work of International Telecommunication Union ( ITU) in September 2016, this was possible with support from the Global Initiative for accessible ICT's (G3ict). Today I have the pleasure to share the result of the first EFHOH led technical paper called "Overview of Remote Captioning".
Since ratification of UNCRPD we are seeing rapid growth in participation of persons with disabilities at live meetings and events with a demand that these meetings be accessible meetings. Hearing loops, captioning and sign language are the main requests organisers will encounter from the deaf and hard of hearing community to support access to communication. To meet the demands, remote captioning is often used.
The experiences of people with hearing loss using captioning vary considerably. Where good quality captioning service with specifically well trained captioners is deployed, deafened and hard of hearing people, experience equal participation and full inclusion. However, when there are other substandard services used we are in fact excluded from full participation. The negative side effect is that we may withdraw from further participation based on these bad experiences and because of poor captioning.
Having seen different provisions in different countries that often do not successfully provide access for hard of hearing and deafened people, it became important to develop a technical paper tackling remote real time captioning. This effort was led by EFHOH and involved consultation with many stakeholders over two years period including captioners, International Federation of Hard of Hearing (IFHOH) and accessibility experts working with ITU Study Group16.
This newly approved technical paper will continue in paving a way towards better quality of access to captioning in all meeting both physical and remote for persons who are deafened and hard of hearing. The ITU-T will continue to test other methods of captioning as they are developed.
ITU does not charge for the download of this technical paper. Download the paper from ITU here. Further information on accessibility standards and technical papers can be found at accessibility and multimedia standardization section of ITU.
Now there needs to be concerted efforts between policy makers, persons with disabilities, their respective organisations and those who are responsible for procurement of services in making all meetings truly accessible. This paper is the first step towards making it a reality for so many people with hearing loss.
There is still a lot of work ahead and we continue to review other accessibility documents as well as proposing further work that will benefit hard of hearing people and raise awareness of our needs.