Enabling Service Resiliency in a World Impacted by COVID-19
Posted on July 13, 2020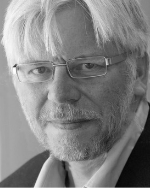 ​Director, David Banes Access and Inclusion Services ​and Board Member, DATEurope
Necessity is the Mother of Invention: There are many challenges faced by services as demand increases and budgets are constrained. Historical responses have been incremental, not necessarily positive, perhaps at times closer to 'death by 1000 cuts' rather than genuine innovation driven by disruptive change. Disruption is not always well understood, but often it relates to how technology allows us to approach a challenge in an entirely new way, wiping the slate clean and building something that addresses today's needs and preferences.

The Challenges Presented by COVID-19: The COVID-19 pandemic has been different from many previous crises. Restrictions in interactions have most strongly impacted social settings where personal interaction is at the heart of services. The service sector, including bars, restaurants, hairdressers have been closed and with little to no opportunities for interaction. In such a social climate, it is perhaps not surprising that day services and support for persons with disabilities have also been impacted significantly by the pandemic. The urgency of the situation has seen the introduction of new approaches to individual services, assessments of need that are conducted remotely, communication sessions and teaching delivered via teleconference. Even mental health guidance and counselling for individuals and groups can be accessed, perhaps not from the comfort of, but certainly from home.
The need for change and development has been clear for some time. Virtual sessions for older persons, such as dayspace.org, are both innovative and effective, but day services for persons with disabilities have been slower to respond to change. They have always offered a safe space for those at risk of social exclusion and have fought to retain funding and to offer vital provision for many. As a result of budget restrictions and increased demand, services faced significant pressure before the crisis, and the impact of COVID-19 was a breaking point for many. Those most in need of social, emotional and learning support, found the doors of services were closed. Many faced unbearable levels of isolation, and a new approach had to be found and implemented urgently.
The Enable Ireland Response with Microsoft: In Dublin, the assistive technology team led by Siobhan Long, in close collaboration with existing day services and with the support of Microsoft Ireland quickly developed and implemented something that had not been seen before. These were virtual services offering a breadth of structured and semi-structured activities that were open to service users. The Virtual Service Centre (VSC) is an online model of service developed with 35 adults with disabilities. Using Microsoft Teams, an online video conferencing and collaboration platform, staff and those with disabilities have worked in partnership to design a new online service model. It is characterized by a daily menu of six, hour-long group sessions and a parallel provision of one-to-one chat sessions by team members, as well as some evening one to one chat sessions. This new model of service seeks to address the gap resulting from service closures - recognizing the fear, social isolation and stresses impacting on persons with disabilities because of the pandemic.
The service was evaluated by Enable Ireland after eight weeks. Feedback from persons with disabilities has been impressive with a consistently high satisfaction rating among all stakeholders, who have indicated a desire to ensure its sustainability. Many of the benefits reflect an emerging sense of shared ownership and collaborative working between the participants and staff. I had the great privilege to sit and lurk during a music session. Over 30 people took part listening and taking part in a live performance of a song written by one of the members and his father.
The song, "wear a scarf as a symbol of hope," reflected and mused upon how to respond to the tensions and pressures of the recent months of crisis. The group had much to say not just about the music itself, but also about what the song represented to each person. Jason managed the session beautifully with an outline structure that he followed, whilst allowing everyone to contribute and take the discussion in the direction that they felt was most important.
Siobhan speaks about those participating as "service owners" rather than "users" and as I watched and listened to the session unfold, there was an overwhelming sense of ownership from those engaged. In effect, the session was one that was democratic, giving not merely a voice, but control to the participants. This move does not happen by accident, instead, it builds upon the language and terminology that the group chose as one of the outcomes of self-advocacy activities.
Moving Forward: Responding to a Changing World and Changing Pressure – Service Resiliency and Blended Approaches
It would be incorrect to suggest that the services and delivery pioneered in Ireland constitute a "new normal." But they are a critical step in defining what a new normal might look like as we emerge from the crisis and address levels of need and potential further pressures on the public purse. Further feedback from those involved suggests that this Virtual Service Centre is perceived by stakeholders as one component of a three-part service delivery model, alongside one-to-one sessions with key workers in the community and some center-based services. As priorities and pressures shift and change, such a blended model allows that balance to be treated more fluidly. Services offer increased participation hours but retain the capacity to move between, and blend approaches to reach more people with the best possible quality of interaction as time, resources and demands permit.
As I sat and hummed the song in the session, I thought about my brother, now in his 50s having lived his entire life with cerebral palsy. Lockdown has taken away his day services, and before that, support hours were increasingly cut as budgets were reduced in years of austerity. The model that is evolving in Ireland, offers hope that despite this, there are ways to break down isolation, to enhance emotional wellbeing and positively impact on the quality of life. I might just don my scarf to that.
Important links:
Further information on the approach in Ireland can be found at RTÉ's Radio