Seven ICT Accessibility Policy Trends to Watch in 2016
Posted on January 19, 2016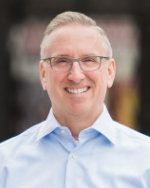 Vice President, Global Strategy and Development, G3ict
James Thurston anticipates seven ICT Accessibility policy trends for 2016.
As 2016 begins, looking back at last year's global accessibility policy advancements is interesting. But looking forward and anticipating accessibility policy trends and themes in the new year is essential for all of us concerned about the digital inclusion and human rights of persons with disabilities.
At G3ict, our mission is to support the effective implementation of the technology aspects of the UN Convention on the Rights of Persons with Disabilities (CRPD). We use a number of tools and strategies to do so. We partner with a network of more than 1,200 accessibility experts in every region of the world. Through our Accessibility Worldview service, we scan more than 1 million news stories every day to find out what is happening worldwide in accessibility policy today and to anticipate what could be happening tomorrow.
Looking forward, we believe there are several important trends in accessibility policy making both to watch and to work on in 2016. Seven of those are:
Civil Society: The UN Convention on the Rights of Persons with Disabilities (CRPD) makes clear the critical role of Disabled Persons Organizations (DPOs) to its worldwide implementation. Over the past few years, we have seen a positive shift in the knowledge and engagement of civil society on accessibility policy issues. DPOs are playing an important role in a large and growing number of the global policy activities that we track every day. We expect this upward trend in DPO engagement to continue. G3ict is working to support it.
Public Procurement: More and more governments are exploring how to use their enormous ICT purchasing power to drive the creation and deployment of increasingly accessible technology. In 2016 we expect to see progress on two of the most well-known existing accessible technology public procurement policies; a final rule for the refreshed Section 508 of the Rehabilitation Act in the United States and across the European Union the implementation of 2014's revised Public Procurement Directive in combination with the relatively new European accessibility standard (EN 301 549). Beyond the U.S. and Europe, in 2016 we expect to see more countries create procurement policies and adopt the European accessibility standard, perhaps with Australia leading the way. G3ict and several other leading organizations have started a global procurement initiative to push progress in this area.
Smart Cities: The implementation of the CRPD is no longer happening only at the national level of government. Through our Accessibility Worldviewservice, we are tracking a large and growing number of accessibility policy activities taking place at the state/provincial and city levels of government. That trend is particularly crucial as the value of both public and private sector investments in "Smart Cities" continues to grow. Infusing technology into cities is a great idea, but it must be accessible technology. Government policies need to ensure that Smart Cities are also Accessible Cities.
Voting: One policy area of the CRPD that needs more attention from a technology perspective, is Article 29 – dealing with participation in political and public life. There is a compelling policy, digital inclusion, and human rights case for accessible voting technology to empower persons with disabilities to vote independently, privately, and securely. Policies enabling the broader use of accessible voting technologies can help governments meet their legal commitments under the CRPD. In 2016, we expect to see more governments look to both technology and accessibility policy as a way to increase participation rates by persons with disabilities in elections and campaigns.
Web: In 2015, the largest percentage of accessibility policy items identified through our Accessibility Worldview service was related to the web (e.g. in Mexico, India, the European Union, U.S., etc.). That is not surprising. Web accessibility policies are relatively easy to enact and their impact is immediate and significant. Looking forward, when we review our Accessibility Worldview indicators of likely future policy activity by governments around the world, the largest percentage are also related to web accessibility. In 2016, we expect to see a continuation and increase of the considerable web accessibility activity of 2015.
Education: According to our G3ict Accessibility Worldview data, in 2015 inclusive education policies were the second largest single category of accessibility policy activity in countries around the world, following only web accessibility in the number of both actual and expected future policy making activity. We know that persons with disabilities have lower educational attainment rates in countries all around the world. It is fitting that inclusive education is such a major focus of the CRPD and of governments, NGOs, and companies. We expect this trend to continue in 2016.
Financial Services: In most countries, persons with disabilities are among the largest unbanked minorities. Some leading banks already are committed to accessibility for a variety of reasons, e.g. business opportunity, corporate social responsibility, legal compliance, etc. Our Accessibility Worldview policy tracking data leads us to expect that in 2016 government policy will play an even larger role in moving the entire sector forward. To support progress, in April in Paris, G3ict will launch a new initiative focused on accessible technology, innovation, and effective public policy in the financial services sector.
As we look forward into 2016, we see great opportunity for public policy to support significant advances in accessibility. Each of the seven areas above are priorities for G3ict. We look forward to working with governments, civil society, and industry to make positive progress across all of them.