Smart Cities Buy Accessible Technology
Posted on April 24, 2017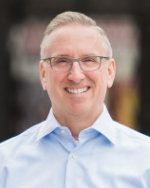 Vice President, Global Strategy and Development, G3ict
Laura Ruby, Director of Worldwide Accessibility Policy & Standards at the Microsoft Corporation, believes that one of the smartest things cities can do to ensure the digital inclusion of persons with disabilities and older persons is to make sure they are buying only accessible information and communications technology (ICT). She says that, "when governments require accessibility as part of their ICT procurements, they use their enormous purchasing power to reward the innovation of products and services that are more inclusive and accessible to everyone -- which benefits both individuals and organizations."
Public procurement processes are increasingly being recognized as a highly effective policy tool to promote the accessibility of (ICT) equipment, software, applications, and services purchased by governments or government-funded programs. Global interest in the positive effect of public procurement is largely the result of two well-known accessibility public policy activities: Section 508 of the Rehabilitation Act in the United States (governing the Federal government purchase, development and use of accessible electronic and information technology) and ETSI EN 301 549 (the European accessibility standard developed to support the European Commission's rules that add accessibility criteria to public procurement of ICT products and services in Europe).
In 2016, as part of our Smart Cities for All initiative, G3ict and World Enabled surveyed more than 250 experts worldwide about the digital inclusion in Smart Cities of persons with disabilities and older persons. Sixty-five percent of those experts agreed that requiring accessibility in ICT procurements would improve digital inclusion in Smart Cities.
We believe that cities are uniquely positioned today to lead on digital inclusion through their procurement policies.
Cities are where the world's population lives and the proportion of persons with disabilities and older persons living in cities is rising. By 2050, 70% of the global population will live in cities and at least 15% will be persons with disabilities. Urbanization and aging trends are also closely linked. Globally, between 2000 and 2015, the number of people aged 60 years or over increased by 68% in urban areas, compared to just a 25% increase in rural areas.
Cities are at the center of global disability rights. More than 84% of all global cities are in countries which have signed on to the United Nations Convention on the Rights of Persons with Disabilities (CRPD). All of the Rockefeller Foundation 100 Resilient Cities are in CRPD countries.
Cities also are global technology leaders. In 2015, 89% of the world's 4 billion urban residents had 3G mobile broadband coverage while only 29% of the global rural population of 3.4 billion people did.
Cities are the world's economic engine, generating 80% of global GDP. Just 20 major cities are home to one third of large companies globally. They generate 16% of global GDP. The firms clustered in these top business hubs generate more than 40% of the combined revenue of all large companies worldwide.
These socio-economic trends give Smart Cities the opportunity to lead in driving increased digital inclusion through ICT procurement policies.
On May 3rd, at the Smart Cities NYC '17 conference, G3ict and World Enabled will launch a set of tools to help Smart Cities really become Smart Cities for All. One of those tools will be a Smart Cities Guide for Adopting an ICT Accessibility Procurement Policy. Ruby says, "any city that is truly committed to inclusion and digital transformation will benefit greatly from this Guide."