Time to Act! Make Digital Inclusion in Procurement a Habit in Sweden
Posted on March 02, 2021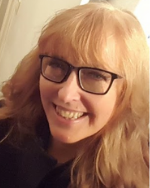 Policy Officer, Swedish Disability Federation
The COVID-19 crisis has really tested our societies on how we have succeeded in implementing digital accessibility in public communication. Persons with disabilities could have been so much more included in education, work, health care and making everyday life work, if we had only been better at using the tools for accessibility in procurement. Now let us learn and build back better – making accessibility and universal design part of our DNA when we buy, offer, or develop digital products, services, and systems.
In January about 100 persons from the public sector, disability rights organisations and industry joined a roundtable on digital accessibility and universal design in procurement organised by The Swedish Disability Rights Federation, G3ict, Microsoft, and the European Disability Forum. The aim was to discuss sustainable strategies to systematically include digital accessibility in all purchases – whether it is a copy machine for the office or a complex development of an ICT system.
In Sweden, agencies monitoring disability policy have made enquiries about accessibility requirements in public procurement since the 1990's. In 2020, there are still many agencies, regional or local government admitting to the fact that they do not make requirements. Despite mandatory accessibility requirements in the Swedish Public Procurement Act for the last years and receiving a special recommendation from the UN in 2014 to systematically set requirements for accessibility in all agreements on public procurement. The Swedish national procurement strategy emphasizes universal design and accessibility, but many organizations still find it difficult to establish routines for specifying accessibility requirements in procurement.
The Swedish Public Procurement agency presented tools and support that they offer. They have support for the whole process including how to follow up accessibility requirements. They also welcome more questions via their online forum where they answer questions on how to apply standards like Accessibility following a design for all approach. But when asked about statistics on accessibility in contracts, they had to admit that the data is still missing.
At the round table Ima Placencia Porrero from the European Commission also gave us hope of new tools to monitor accessibility in public procurement. She explained how to apply article 24 in the European Accessibility Act and standards like EN 301546 and EN 17161 in procurement. She emphasised the possibility to make requirements beyond the minimum and said that we can soon expect more best practise from the upcoming revised version of Buying social.
What can we learn from the experiences so far on our way to make accessibility requirement a habit in all procurement?
Politicians and leaders need to show and apply support for the systematic approach to include accessibility in procurement
Better automatic tools for monitoring and data collection must be developed and used
Involving disability rights organizations in pre- and post-procurement strategies and employing persons with disabilities is a success factor
Use existing European accessibility standards in the process and universal design in innovation procurement
To conclude: There are no excuses. Let us work together to take the necessary steps from fair words to efficient practice.
The roundtable materials are available on the Buy ICT for All website.