We Will Miss Cynthia Waddell and Stephen Wing - What Will Be Your Legacy?
Posted on August 05, 2013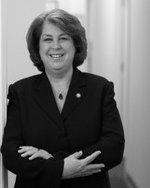 CEO and Founder, Ruh Global IMPACT and Chair, G3ict Employability and Technology Group
Debra Ruh, Managing Partner at Ruh Global, pays tribute to Cynthia Waddell and Stephen Wing, both thought leaders and champions of promoting a disability inclusive society.
It is always sad to lose our friends and especially sad when they are Thought Leaders making huge positive changes in the world of not just their family and community, but in public life as well. We lost two great leaders this year, advocates and friends whom I had the pleasure to know, Stephen Wing and Cynthia Waddell.
Both of these amazing people made great contributions in our ongoing efforts to assure that persons living with disabilities are fully included in all aspects of society. Their legacies cannot be properly captured in one blog. I wanted to try and honor both these wonderful people and be sure their legacies are never forgotten.
Others helped pave the way for inclusion and civil rights for persons with disabilities. Many leaders in the community are "Paying it Forward" but we would not be moving forward without the support of the leaders that lead the movement, including Justin Dart, Michael Winters and so many other great leaders.
My daughter, who was born with Down syndrome, is 26-years-old today. My family was stunned and did not know what the future held for this precious baby. We did not understand the civil right fights and debates that were taking place to assure she has basic civil rights. People got out of their wheelchairs and crawled up the steps of Federal buildings in DC. They wanted to assure that Sara and other people with disabilities had the same rights as everyone else in the country. The civil right to access to education, employment, transportation, technology, affordable housing, voting, and other rights afforded to all Americans. The ADA was passed when Sara was 3-years-old. So, it is bittersweet as our country celebrates the 23rd anniversary of the Americans with Disabilities Act (ADA) in July 2013.
It's fair to say that we have made progress after 23 years. However, we still have so much more to do, especially with turning employment inclusive. Our family is grateful for the leaders that fought for Sara's rights. Many fought and continue to fight for the civil rights of all Americans with disabilities.
Sara and I joined the efforts early on working with other leaders like Cynthia and Stephen to assure Americans with disabilities continue to be fully included in society. I want to thank Stephen Wing and Cynthia Waddell's family and friends for their efforts to include people with disabilities in all aspects of society. Their legacies are making a huge difference in the United States and all over the world.
Our family supports the United Nations Convention on the Rights of Persons with Disabilities (UNCRPD). We are hopeful the U.S. will fully adopt the dispositions of the Convention and ratify it, taking our place as global thought leaders.
Tribute to Cynthia (1952-2013)
In the world of accessibility, Cynthia Waddell was an internationally recognized expert in the field of electronic and information technology as well as employment and construction. She helped author the first accessible web design standard in the United States in 1995 that led to its recognition as a best practice by the federal government and contributed to the eventual passage of legislation for the Electronic and Information Technology Accessibility Standards (Section 508).
In September 2007, the International Communications Union (ITU) commissioned her to write a background paper on meeting Information and Communications (ICT) access and services needs for people with disabilities. The ITU paper is entitled "Major Issues for Development and Implementation of Successful Policies and Strategies" and has been well-received. She is also the co-author of UNESCO publication addressing access to the built environment and accessible ICT for telecentres and multimedia centers: Accessibility Guidelines for Multimedia Centres.
She co-authored two books: Web Accessibility: Web Standards and Regulatory Compliance (Apress 2006) and Constructing Accessible Web Sites (Glasshaus 2002, reprinted Apress 2003). These best practices and technical resources include the first global surveys of laws and policies in countries addressing accessible web design. Constructing Accessible Web Sites was selected by the Japanese Industrial Standards Working Committee for translation into Japanese for an ICT training event.
The free CynthiaSays™ web accessibility tool and portal was named after her and endorsed by the American Council of the Blind. The CynthiaSays™ portal at www.cynthiasays.com is a joint educational project of ICDRI, The Internet Society Disability and Special Needs Chapter, and HiSoftware. The tool enables web developers to post content on the web that is accessible to assistive computer technology utilized by people with disabilities as well as alternate Internet access devices such as cell phones, palm pilots and personal digital assistants.
Her seminal paper, "The Growing Digital Divide in Access for People with Disabilities: Overcoming Barriers to Participation" was commissioned by the U.S. Department of Commerce and the National Science Foundation for the first national conference under President Clinton on the impact of the digital economy. It has been translated and cited by governments, businesses, universities, and entities around the world, including an IMF/World Bank Summit and the World Economic Development Congress. A collection of her papers are posted on www.icdri.org.
A frequent writer and speaker, her papers have been translated and cited by organizations including the National Council on Disability, an independent advisor to the U.S. President, in their 2001 report The Accessible Future.
Cynthia Waddell was a Lecturer in Law and holds a Juris Doctor from Santa Clara University School of Law. She was designated a Public Interest Disability Rights Scholar and a Dan Bradley Fellow for the Employment Law Center in San Francisco, California. In addition, she was a Rotary International Foundation Fellow at Exeter University, England, as well as an USC-Cambridge University Scholar at Cambridge University, England. She received her B.A. cum laude, from the University of Southern California where she received Honors at Entrance.
Cynthia made so many contributions that it is hard to list them all. To find out more about her work please visit ICDRI.
Tribute to Stephen (Steve) Wing (d. May 25, 2013)
Steve served in the Army National Guard and was the President of WINGS LLC (Workforce Innovations to Navigate Global Solutions) and was the former President of Corporate Voices for Working Families. Steve had an amazing career and he always focused on helping others. WINGS LLC engages corporations to develop partnerships with government agencies, non-profits, foundations, workforce investment entities, faith-based organizations, and educational institutions to create customized training programs to find qualified, skilled and talented workers. The goal of WINGS LLC is to become the leading firm bridging the American workforce system with diverse companies and organizations to put people to work and to enlighten employers to the long-term benefits and proven ROI that results from creating innovative workforce solutions with a diverse network of organizations.
Steve also had 35 years of corporate experience with CVS Caremark, the country's largest provider of prescriptions and related health care services in the nation. During his tenure at CVS, he built several profitable divisions and programs including CVS's Workforce Initiatives Department. His ability to establish partnerships for corporations with government agencies, non-traditional employment resources, educational institutions, and faith-based organizations has resulted in innovative employment and training programs that thrive and produce a quality workforce. He was a corporate advisor for numerous faith-based, disability, and educational institutions and coalitions. Steve's CVS Caremark initiatives have garnered attention and recognition, including the 2009 National Employer of the Year from the Clubhouse Coalition for People with Disabilities; 2009 Top 50 Employers from Careers & the disABLED magazine; 2008 Pioneer Award from Homes and Working Families; the Pillar Award from Smart Business magazine, and the U.S. Department of Labor's prestigious New Freedom Award. Steve was an amazing man, leader, husband, father, friend, and mentor. I was blessed by his friendship in many ways. He always encouraged me in my efforts to help people with disabilities on the global stage. I know his family is very proud of this amazing man. His legacy and many contributions will continue to help millions of people.