Introducing G3ict's New Inclusive Smart Cities Advisory Committee
Posted on October 30, 2020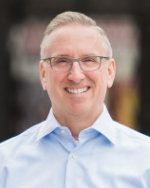 Vice President, Global Strategy and Development, G3ict
For more than three years, G3ict has been working to define what it means for a city to be both smart and inclusive and to support them with resources and guidance. We have benefited from strong partnerships with companies like Microsoft and AT&T and with leading civil society organizations like the World Blind Union, World Enabled, and the International Disability Alliance. We have worked with leading cities like Barcelona, New York, Mexico City, and Rio de Janeiro to support their strong commitment to digital inclusion.
Today, as we prepare to celebrate World Cities Day on October 31st, I am excited to announce and introduce G3ict's new Inclusive Smart Cities Advisory Committee. We have convened this diverse and powerful group of global leaders to help us continue expanding the scale and impact of our work with cities worldwide.
Our new Advisory Committee includes disability leaders with deep knowledge of and expertise in disability rights, cities, assistive technologies, information technologies, and Smart City solutions. Please meet the members of the G3ict Inclusive Smart Cities Advisory Committee:
For more information on each committee member, visit our G3ict Smart Cities for All website.
G3ict is honored to have the collaboration and commitment of these amazing leaders and we look forward to working together with our global partnership ecosystem to continue shining a spotlight on the opportunities for cities to leverage technology and data in support of greater
inclusion – to be truly Smart Cities for All.