Smarter Cities Take the Challenge
Posted on November 18, 2019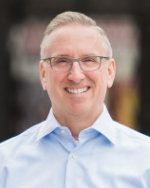 Vice President, Global Strategy and Development, G3ict
This week, G3ict and our Smart Cities for All global initiative are again taking part in the annual Smart City Expo and World Congress in Barcelona. New this year, we are actively partnering with the Microsoft corporation to offer cities the opportunity to experience our Digital Inclusion Maturity Model© Assessment. The tool helps city and agency leaders measure progress on and commitment to ICT accessibility and digital inclusion as part of being a smarter and more inclusive city. The results of the assessments inform us as we partner with cities to build roadmaps and strategies to grow their digital inclusion commitment and capability.
Over the past several months, G3ict has used this Smart Cities for All tool to administer assessments to cities like Chicago, Raleigh, Mexico City, Guadalajara, Boston, and New York. We convened expert teams and leaders from across civil society, government, and industry, to participate and contribute, including from the American Council of the Blind, Microsoft, AT&T, Moovit, SAP, IBM, the Mexican Human Rights Commission, and others. These partners helped us bring enormous expertise and valuable guidance on technology, accessibility, disability, and smart solutions to the cities.
In a recent article, Karen Tamley, Chicago's Commissioner for People with Disabilities, said our work with her city with the Smart City Digital Inclusion Maturity Model© "…shined a light on our culture, vision, processes, how we use data, and perhaps things we might not have thought about before. When you have 40 to 50 departments that are touching the digital space in some way shape or form there is certainly a lot of work and building of your internal culture to make sure there is an understanding of what disabilities can be."
The Digital Inclusion Maturity Model© Assessment provides cities a comprehensive evaluation across 18 core capabilities. Working with the Maturity Model tool, cities learn more about their specific digital inclusion motivations, goals, requirements, successes, pain points, and challenges. We can evaluate a city's current approach to accessibility and digital inclusion across five key themes that are important to any Smart City: their strategic Intent, culture, governance and processes, technology deployments, and use of data. The results generate greater clarity about inclusion and accessibility relative to a city's digital transformation activities and under each theme. They serve as the basis for building a roadmap for progress.
If you will be at the Expo, we invite you to stop by the Microsoft booth and assess your city's digital inclusion. Take the challenge – let's partner helping your city be both smarter AND more inclusive!