Toward Inclusive Workplaces: Moving beyond "the way it has always been done"
Posted on March 15, 2022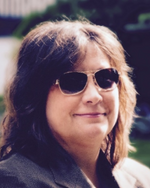 Director, Global Public Policy - AT&T
If there is one thing that the COVID-19 pandemic has taught us, it's that businesses can be flexible, if motivated. This is really nothing new. The ability to collaborate online, hold virtual meetings and exchange electronic communications has not only supported those with disabilities for years but also those who wanted to work remotely because of quality of life. Companies that supported employees with disabilities and without, adopted this technology long before the pandemic. Those companies were able to quickly adapt to "the new normal" quickly. I saw first-hand how the accommodations I received during chemotherapy helped my non-disabled peers. We were all safer.
The pandemic made us change how we do business. For some companies, it also changed how they viewed inclusion. A substantial number of employees needed to work remotely and taking steps to support them became critical. The sad fact is that people who have immune systems that are compromised because of illness or medication have often had to choose between work and health. This is because businesses would say this accommodation would be an undue burden - work could only be done in person. That's the way it has always been done, but "the way it has always been done" has left many companies with a disproportionately low number of women, those who are LGBTQIA+ and people of color in leadership positions. It is simply not a good enough answer. I don't believe businesses want to exclude categories of people, if for no other reason than diverse workplaces are profitable. I don't believe those in leadership positions intentionally want to exclude those who are different. The pandemic, as hard as it has been, gives us an opportunity for a reset.
It is difficult to track watercooler conversations and other social interactions that lead to business opportunities. It is much easier to track on-line communications, phone calls, invitations to virtual meetings and this can help determine if our action are inclusive – and we can do it in a way that does not invade privacy. We can check the accessibility of the tools we use to support our employees remotely. We can compare this data against our hiring, retention, and promotion to identify how to make real changes. We can learn how we can better support our employees with disabilities and employees who have family members who are at risk. We can learn how we can better support a workforce that looks like our world, around the world.
There is no technology related reason why people with disabilities have the highest unemployment rate. There is no technology related reason why many companies do not reflect the diversity of our world. As we return to in person or hybrid work, if we are motivated, we can use technology to ensure our workplace of the future is inclusive.
---
This blog post is part of a collaborative effort of G3ict, Steelcase, and other global partners to understand, define, and support more inclusive workplaces. For more information, please go to this link Inclusive Workplace Community of Interest | International Association of Accessibility Professionals (accessibilityassociation.org).